When your health is on the line, you need a trained and experienced team.  The Bee's Team has a certified Air Systems Cleaning Specialist on every job, and the experience to get the job done properly. Don't trust your home and your health to anyone else. 
Combat Mold Issues with Expert Air Duct Cleaning Services
Ensure comprehensive mold remediation by including air duct cleaning in your plan. Mold spores can easily circulate throughout your HVAC system, potentially contaminating the entire system. Our specialized air duct cleaning services focus on removing mold spores from the entire air pathway, helping to maintain a clean and healthy living environment.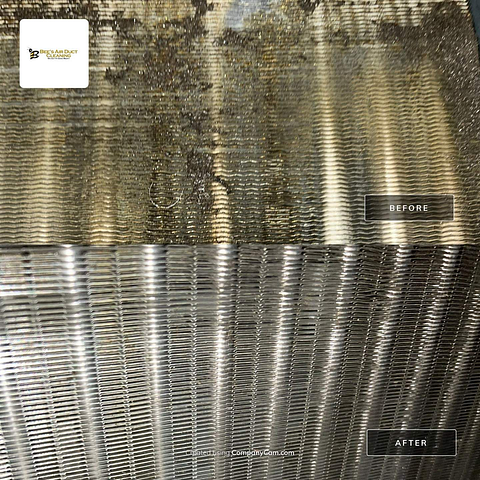 Understanding the Mold Remediation Process
Mold remediation involves cleaning the entire pathway of air in the HVAC system, including the furnace, evaporator coil, and all ductwork. This comprehensive approach is crucial to prevent the spread and recurrence of mold spores.
Our Unique Approach: Negative Pressure
We maintain your HVAC system under continuous negative pressure during the air duct cleaning process. This ensures that the air pressure inside the system is lower than outside, preventing any mold spores from escaping into your living spaces.

Exterior Vacuum Exhaust
We use high-quality vacuums that exhaust outside your home during the cleaning process. This method helps to prevent mold spores and other contaminants from reentering your home, ensuring a more thorough and safe cleaning process.
Thorough Removal of Mold Spores
Our cleaning process addresses the entire pathway of air in your HVAC system to ensure thorough removal of mold spores and contaminants. This comprehensive process helps prevent the spread of mold in your home, and assures a clean and safe HVAC system for you and your family.

Disinfectant Treatment
After the cleaning process, we treat your HVAC system with a disinfectant such as Envirocon. This fogging process further decontaminates and deodorizes your system, ensuring the elimination of any lingering mold spores or contaminants.

Why Choose Our Services?
We understand the complexities and challenges of mold remediation. Our expert team takes every precaution to ensure that mold spores and contaminants are effectively removed from your HVAC system, making your home safer and cleaner. We prioritize honesty, transparency, and professionalism, providing you with a reliable, comprehensive solution to your mold problems.
Take a proactive step in your mold remediation process today by scheduling our professional air duct cleaning services. Trust us to deliver a clean and safe HVAC system for your home.

Get A Quote